Are you looking for guidance about how to go through the scarf testing process in the scarf business?
You who have sourced/produced a lot of textile business, do you really understand textile testing? What exactly is textile testing? What are the textile testing items that may be used in the import and export process? Seriously, when I first started to contact Textiles, I also went through a lot of information and spent a lot of time. This will make your customers trust you because you are professional in this area.
I believe, therefore, that this article, for those who need it, may still be helpful. So please read on.
In this write-up, I am going to tell you:
What is scarf testing?
What is the importance of scarf testing?
What are scarves Testing Solutions?
What is the Procedure for scarf testing?
What Is Scarf Testing
Scarf testing is a process that we conduct at our client's request. This testing verifies the caliber, appropriateness, and material choice according to industry standards.
It plays a significant role in developing, marketing, and using fabrics. It is an essential step to selling safe, user-friendly, and high-quality products.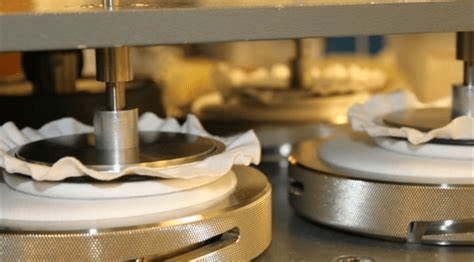 Textile Testing
Is It Mandatory for You to Get Tested to Import Scarves from China?
Getting your scarf tested is not mandatory. However, as a supplier or buyer, if you demand to get your scarf tested, you can get them tested from authentic third-party organizations.
As a scarf manufacturing company, we conduct this test to ensure that the scarves follow your country's safety standards and up to your desired level.
Importance of Scarf Testing
What Is the Purpose of Scarf Testing?
When utilizing scarves, you should expect them to feel well, look good, be durable, and shouldn't include any harmful materials. But how can we make sure that the scarves meet all the demands?
Specification test
Selection of raw material
Process development
Process control
Quality control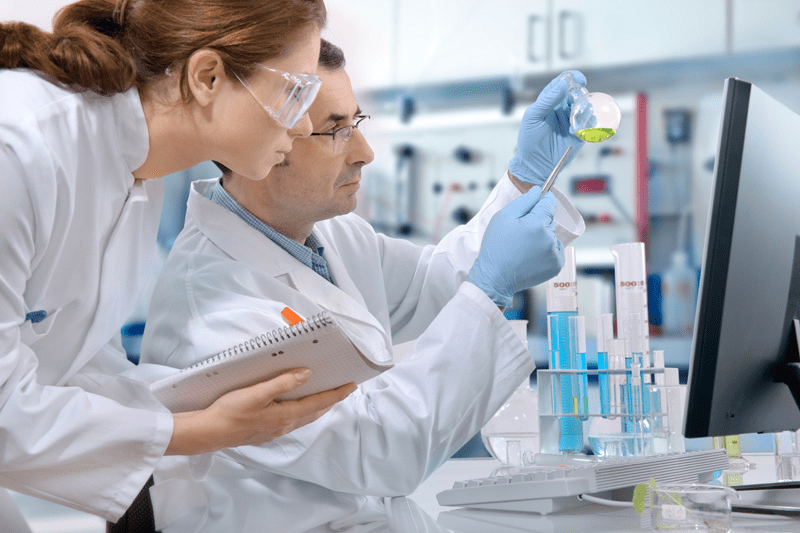 Scarf Testing and Quality Control
Why Is Scarf Testing Important?
You can check the suitability and quality of the fabric used in scarves production.
You can check the scarves production process.
To assess the final product quality
To reach and investigate the lousy quality material
To set some standards for the scarves production
To get innovative ideas about new product development
Scarf Testing Solutions
There are many scarf testing solutions to test the fabric quality of your scarf. It can be difficult to choose scarves testing lab. With regard to cost, logistics, turnaround time, and other factors, the choice must make sound business sense.
Things to Consider while Choosing a Testing Lab
When seeking a scarves testing lab that meets your requirements, there are three primary areas to concentrate on:
Expertise
Accuracy
Precision
When you are going to test the quality of scarves in the scarves industry, the area of focus is:
pH value — GB/T 7573
Standard: 4.0 – 7.5
Medium: 4.0 – 8.5
Lower quality: 4.0 – 9.0
Water (GB/T 5713 change of color) 
Standard: (higher than 3-4)
Medium and lower quality: (higher than 3)
What Are the Various Types of Scarf Testing?
The primary components of the appearance test for scarves are the visual flaws and smoothness of the surface, color variation and fastness, drape and wrinkle recovery, and so forth.
The tensile fracture properties of the fabric, dimensional stability, and other factors are generally examined during the durability test of scarves.
The primary safety performance tests for scarves are the PH value test, flame test, formaldehyde content test, mildew test, antibacterial test, contamination test, and so forth.
Thermal conductivity, moisture permeability, air permeability, waterproofness, and other factors are mainly considered in the comfort test of scarves.
Scarves Chemicals and Substances
Analyzing and testing scarves chemicals is crucial for regulatory compliance and for knowing the chemicals utilized in the product. There are numerous chemicals whose usage in scarves products is prohibited.
Several prohibited substances include:
Polycyclic Aromatic Hydrocarbons (PAHs)
Organic Chlorine Carriers (COCs)
Formaldehyde
Azo salts and dyes
Cancer-causing dyes
What Are the Basic Project Requirements for Scarf Testing?
colorfastness
Colorfastness is the degree to which color can withstand changes in brightness and depth brought on by some external stimuli. The most common methods used to measure color fastness include creasing, washing, light, and perspiration.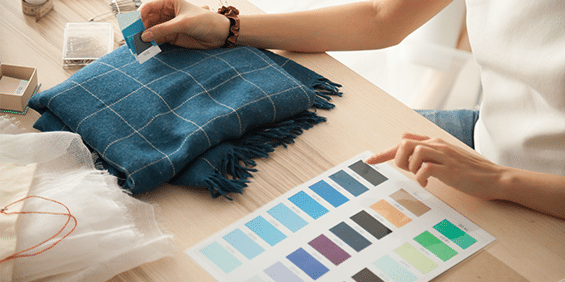 Scarf Testing Color
surface
After washing or other wet processing, it is common to find that the scarves fabric's dimensions change. The cause is shrinking. After wet processing, if the fabric is not sufficiently firm, the garment shape may become twisted, warped, or narrower in length and width.
Composition of Fiber
The fabric structure is the term for a fabric woven. Ends per inch (EPI) and Picks per inch (PI) are the units used to measure the density of the ends and picks under this parameter (PPI). The fabric weave affects additional qualities like surface smoothness, stiffness, tearing strength, surface roughness, and hand feel.
Flammability
Both residential and commercial scarves must meet mandated flammability standards in most markets. The purpose of this test is to ensure the final customer's safety.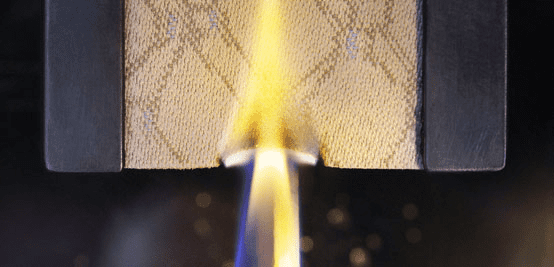 Scarf Flammability Test
Fiber Identification Labels
Fiber testing is a procedure that determines the characteristics and quality of the fabric. Almost all scarves meant for sale in countries like the US and the EU must have a fiber identification label on them.
Eco Testing
This test ensures that the scarf material and manufacturing procedure is eco-friendly.
GPT (Garment Performance Test)
Each purchaser or client has a unique set of testing specifications. The vendor's manufacturing approval is contained in the GPT test result. So, GPT samples are created and sent to a lab for evaluation.
Scarf Testing – Step-by-Step Guide
How Can I Get My Scarves Tested?
Finding an Appropriate Organization
The higher precision lab can readily help to attain the organization's purpose. Before starting mass production, a sample is provided to the customer for industry approval. You can consider third-party labs for testing your scarves. Some in-house labs, manufacturer labs, and independent and academic labs are included in third-party labs for testing your scarves.
Some of the authentic third-party organizations are:
Send Samples
The next step is to send the scarf to the testing facility for analysis.
Fee Submission
Then comes the submission of the required fee for your samples. You have to pay for all tests you want on your given selection. There are different types of materials used in the manufacturing of scarves. But the cost of scarf testing is $100-$300.
Documentation
A document that precisely describes the scarf specs and quality criteria is called a scarf quality control checklist. Scarf manufacturers and suppliers use it.
The third-party organization produces the product quality document after testing the scarves. This document shows the scarf's quality made by the manufacturer. The buyers who want to import scarves from China need this document to ensure the quality of the product is satisfactory. All buyers don't need this document. But, if someone requests, the manufacturer provides it by testing the scarves from a third party.
Final Report
Check to determine if the standard assesses the tested sample.
Get the test results by sorting and analyzing the data.
Create a test report, and then store it.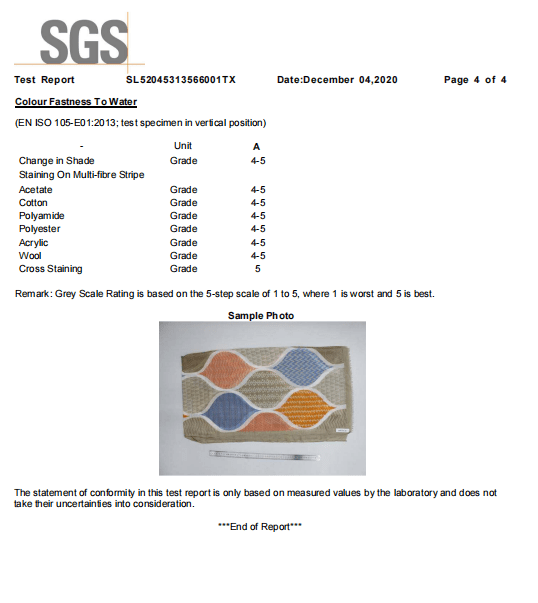 Scarf Testing Report
Scarf Testing Considerations and Costs
Can I Get My Scarfs Tested by a Third-Party Scarf Testing Organization?
Generally speaking, third-party organizations do not accept individual submissions. They test scarves from manufacturers and business people. Many scarf testing companies can give you the best results according to your samples.
Final Thoughts
Ensuring that all scarves are secure, legal, and compliant with specifications is crucial to quality control. Testing samples of the material is one approach to make sure of that. As a buyer, if you need to have your scarf tested, I hope this article will help you.