Women like to wear scarves to elevate their elegance and personality. Certainly, the scarf is such a piece of clothing you may need to exhibit to others that you have a great fashion style. They act as delicate accessories and are quite trendy.
Those who are don't concerned about scarf care and maintenance may waste their money. The reason behind this is that scarf needs the care to look as luxurious as a bought one. Otherwise, they don't complete your looks.
Our scarves range has different sorts of colors, and designs are materials. Moreover, the instructions for the washing and maintenance of the scarves will be different from each other. We recommend treating each scarf gently while washing and using it.
We get many queries related to the handy ways of maintaining and washing scarves. So, we decide to put together all the necessary tips and guidelines for scarf care and cleaning here. It will help you to keep all the scarves in your collection now.  Here are the rules for the upkeep of various forms of scarf fabrics.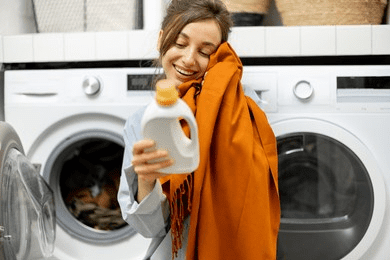 Cashmere Scarves
Cashmere scarves are quite a price and delicate. Moreover, they need extra care and maintenance to look beautiful for longer. Overall, washing the scarf in cool water is a very delicate cycle. We recommend checking the scarf label to avoid harsh cleaning and usage.
Owning a bit of cashmere luxury is one thing, but what are the best things to take care of it?
First, dry-clean your cashmere scarf, if possible, or wash your cashmere scarves by hand with cold water. We don't advise you to machine wash this fabric.
Use gentle soap or specially designed detergents for cashmere items (you can use baby shampoo).
Before soaking your scarves, make sure to thoroughly combine the shampoo and water.
Don't wring the cashmere scarf, soak it and squeeze it out of the surplus water.
Put the scarf between two towels to securely drain the extra water. Roll the towels gently to wring out as much water as you can.
Never use an iron or dry- machine because it ruins your cashmere scarf.
If you want to iron, do so on gentle heat. Always place the scarf in between a white pillowcase or any smooth white fabric.
Avoid wringing to remove excess moisture because it can loosen the weave.
Never hang cashmere scarves and fold them to form sure they keep their shape.
Look for the instruction on the label before dry cleaning the scarf.
Avoid washing in hot water and avoid utilizing fabric conditioners for washing.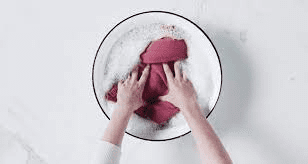 Silk Scarves
The world's oldest textile, silk, is delicate to handle but difficult to scrub because of the tightening of its fabric. They are quite pricey and need immense care to stay beautiful. The manufacturers of silk clothing prefer to send such pure silk scarves with the label of guidelines that only allow dry cleaning.
We also recommend never washing silk scarves through machine washing. The reason behind this is the harsh moves of the machine wash will damage the silk fibers. In case you need to wash silk scarves by hand, then be careful and follow the below-mentioned steps.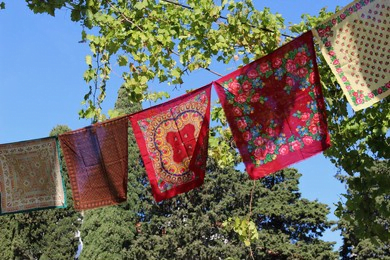 Steps to Carefully Wash Silk Scarves
Use a dab of gentle hand-washing detergent to pre-treat stains on the silk scarf, such as makeup or perfume stains. With your fingertips, work the detergent into the discoloration, being careful not to scratch or scrub the silk scarf.
It isn't easy to scrub because the material shrinks easily.  Attempt to clean your silk scarves in the maximum amount possible.
Never wash the silk scarf in cool water for a long time; five to ten minutes are enough for a silk scarf.
Avoid spraying with perfumes, fresheners, and deodorants because it may cause the silk scarf to soak up some odor or discoloration.
Avoid washing machines.   Try hand-wash silk scarves and use products designed especially for silk fabrics.  You can also use neutral detergents for hand washing.
You can add a few drops of acetic acid into the water to maintain the bright colors. Soak your silk scarves for about ten minutes, pick them up and dry them and enjoy the bright colors for a century.
To dry your silk scarf, lay it out on a towel, fold it in half and gently swirl it to get rid of excess water.
Another option to dry is using a plastic hanger or putting the item flat to dry. Using any kind of wooden or metal hanger risks staining the silk scarf.
Hang your silk scarf in a shady area for air drying (not in direct sunlight) and permit drying naturally.
Use the silk setting or mode on your iron to iron the silk scarf while it's still somewhat damp. Put a fresh, white, lint-free cloth in between the silk scarf fabric and the iron and iron it on the reverse side.
Avoid using fabric conditioners and machine dryers.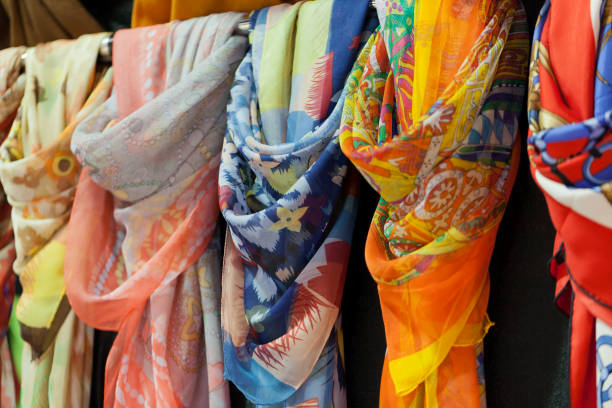 Cotton Scarves
Scarves made of cotton and modal are more difficult than delicate fabrics like wool and silk. We still advise dry cleaning them to prolong their life. Cotton is often machine-washed or dry-cleaned. Yet, you need to consider the instructions for the color of the material and its composition (such as a cotton blend).
Steps to Carefully Wash Cotton Scarves
Use a washing machine for cotton and add some vinegar to the washing cool water. The quantity of vinegar should be small because it may dye light colors.
Light and dark color scarves should be washed separately in the washing machine to avoid discoloration.  Wash dark color scarves in cold water and light colors in a warm or cool cycle.
Soak for a quarter-hour and remember the temperature doesn't exceed 40 °C during soaking the scarves.
Use bleach and hot water for the white cotton scarves. Furthermore, we recommend a laundry bag to wash the scarf in a washing machine.
Avoid wringing. Squeeze with hands to get rid of moisture, then drain, hold on a ventilated place to air dry within the shade, and avoid direct light exposure
To make sure it is snow-white and avoid the yellowing of the white cotton scarf, boil water in a very large pot. You can add built-soap powder, immerse the scarf, and cook for about 30 minutes.
Overbleaching can damage or turn clothes yellow.
To prevent the fibers in your scarf from tangling or being tugged, you should always take care. Put on your jewelry (bangles, rings, and pendants) after you have worn it on your scarf.
To prevent fading of the colors and humidity damage to the fabric, keep the scarves in a cool, dry area out of direct sunlight.
The use of fabric softener should be avoided since it might coat the cloth and actually impair its natural suppleness.
Tie-hang your daily-wear scarves so that you can quickly make a choice. Furthermore, store your fragile scarves in fabric pouches to better preserve them.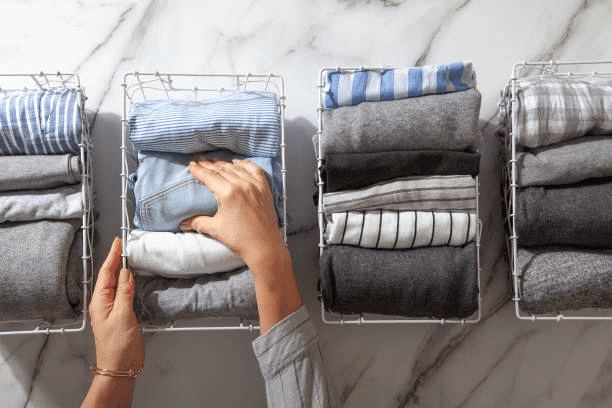 Polyester Scarves
Polyester fabric or scarf is not as delicate as those mentioned above. You have to wash and preserve them. However, you need to follow the steps below to ensure you don't damage them.
Polyester fabrics are machine-washed in warm water
Always try to wash different colors of scarf separately to avoid any color damage.
You can add some drops of gentle detergent
Avoid drying within the machine because it will damage the scarf. Try to air-dry the fabric for long-lasting grace.
Make sure to iron on low heat to avoid the material from melting. 
Don't try to use bleach or any harsh detergent for cleaning.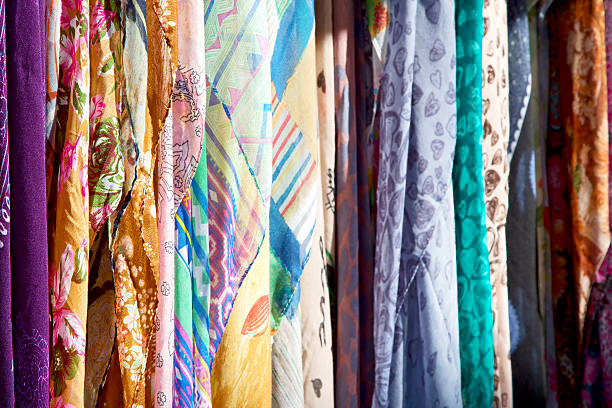 Acrylic Scarves
Acrylic is basically a type of plastic made by heating and pressing petroleum distillates, much like polyester and nylon. They can create a cloth with a smooth texture and a good drape for scarves. Although bulky, acrylic materials can nevertheless be light. Here are some useful tips and guidelines for maintaining and washing acrylic scarves.
Always wash acrylic clothing with warm water. In ice-cold water, it becomes firm and inflexible; in too-hot water, it can melt or be damaged.
It mustn't be washed with too alkaline detergent and soap.
The temperature should be 40-50 °C during the washing of the acrylic scarves.
Rinse off, and don't let the detergent remain on an acrylic scarf.
After washing, unfold it in an exceedingly ventilated place, don't expose it to sunlight to be discolored.
Use the lowest possible temperature and light pressure when ironing to prevent stretching the fabric.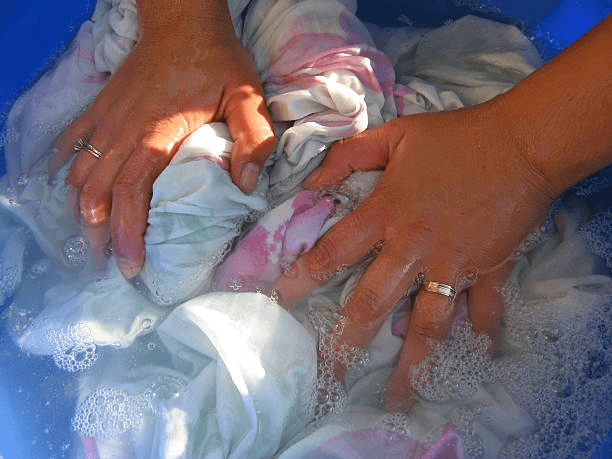 Viscose Scarf
Viscose is a sensitive fabric that needs to be handled carefully. We advise you to wash, dry, and iron you're clothing with extra care to reduce the danger of distortion, pilling, and shrinkage. You need to consider a few things before hand washing and maintaining a viscose scarf.
Never use excessive warm or ice-cold water for a viscose scarf. You can use mild cool water temperature.
Add some drops of detergent to the water and scrub the scarf with your hand (you may also rub the scarf and soap together in your hand).
Let the water be immersed in your scarf material.
Avoid twisting the scarf because it causes tearing of the material
Drain out the scarf from the soapy water and rinse it out till the water is far from it
Take a towel, lay the scarf over it, wrap the towel loosely and soak it gently to get rid of the water.
Don't wring but gently squeeze the scarf and let it dry in an exceedingly shady area.
If you are washing different color scarves together, then wash them separately.
Don't try to dry it with the help of a machine dryer for drying excess water.
Always try to lay the scarf flat on the paper towel like most scarves.
You can gently iron it only on medium heat when it is slightly damp.
Don't utilize bleach and hot water for washing.
We also don't advise using vinegar, dryer sheets, and fabric conditioner.
Always keep these scarves away from direct sunlight.