For the past few years, silk printing is an emerging trend in various industries. If you're thinking about what it is? What are its sub-categories and advantages? Which method to choose for silk printing? Then, you're in the right place to explore your interest.
What Is Silk Printing Scarf?
Silk printing scarf adds glamour to plain silk fabric by using a printer and ink. It involves roller and plain printers for commercial printing. The roller printer is best for the quick representation of styles on yards of cloth. Furthermore, silk printing requires an amalgamation of aesthetic and technical knowledge. You can print the designs on the fabric by using advanced technological machinery. Here we'll look over all the steps involved in it.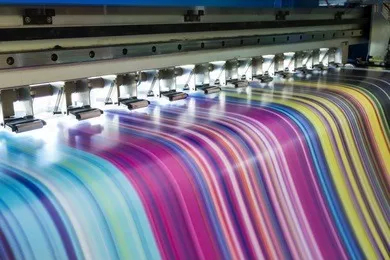 Silk Fabric and Its Kinds
A moth caterpillar produces fiber. The fabric that we manufacture from this thread is known as silk. Companies prefer to use Charmeuse, Chiffon, and Habotai Silk for printing.
Silkworms are fed until they begin forming cocoons. Automated machines will seek unfinished business by brushing the cocoons. Brushing ends up in the formation of useable silk, which is further processed to create silk yarn. The complexity of the silk fabric-making process makes it more expensive than other fabrics.
a. Silk Habotai
This fabric is ideal if you are looking for silk scarves, lingerie, and bridal wear. The softness and lightweight grab people's attention to style it in summer. Silk habotai contains a moderate level of sheen into it. It is cost-effective, so its demand rate is high.
b. Silk Chiffon
Silk Chiffon is the same as habotai fabric, except it differs on the premise of the absence of sheen into it. The usage purposes of this fabric also are the same as the habotai fabric. It gives a somewhat crispy and grainy texture, which makes it perfect to wear in the evening. In Asian countries, women prefer this sort of cloth for the Saree.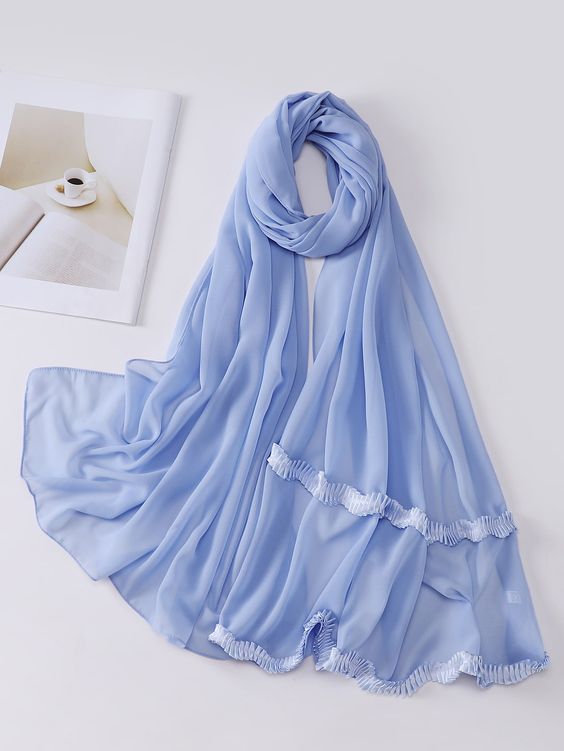 c. Silk Charmeuse
It's not only used for scarves and formal wear but also for luxury home decor – thanks to its shiny and soft feel. It's the main expensive silk fabric among all of the above because of its delicate and drippy texture.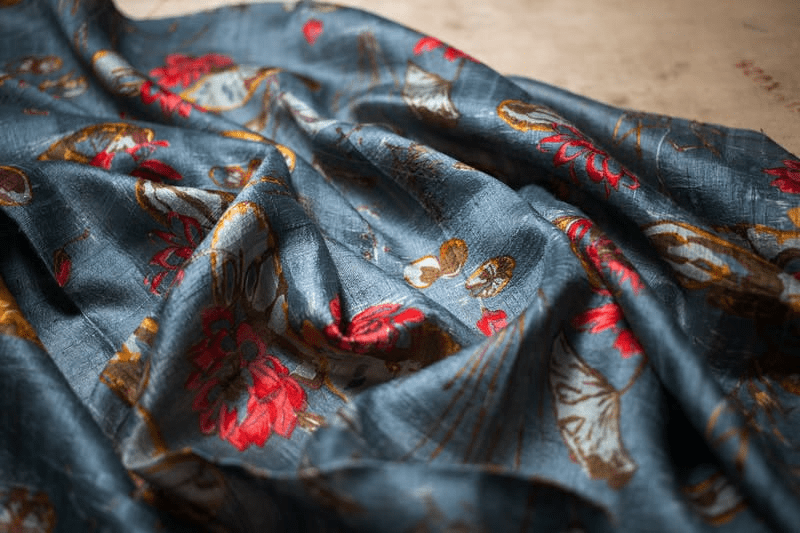 Why Choose Silk Fabric for Printing?
Silk is known as the queen of fabrics. It is nowadays chosen for printing because of its smooth and splendid nature. Silk's durability resembles steel, making it the most robust fiber. Fabrics made of natural fibers absorb liquid, making it easier to print on them.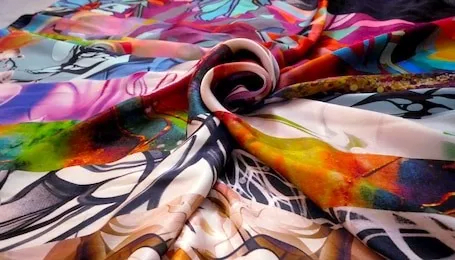 Ways of Silk Printing – Screen Printing, Digital Printing
There are many ways to print silk fabric. Commercial printing industries use digital and silk screening techniques in large quantities. In comparison, other methods are time-consuming. Thus, they are not preferred for big scale like the stamping method.
Silk – Printed Digitally
Digital printing means the direct transfer of design from the computer to the fabric. It is also known as DTG printing (Direct to Garment printing). Unlike traditional procedures, this method quickly incorporates better color infusion with design.
You can use two different methods of digital printing on silk. But before that get the printable graphical record image. Then print the image to the material by adjusting fixers and colors.
a. Sublimation digital printing
b. Direct digital printing
You can use coated paper (heat transfer sublimation paper) for the sublimation method. It helps to transfer the look onto the material. After that high temperature and pressure help to transfer the design to the fabric. It is called the heat transfer fusion method.
While as the name says all – direct-to-garment printing, no paper is needed. Workers coat the fabric before to soak up more liquid ink for a vibrant look. Companies use DTG printers to share designs and make them happen.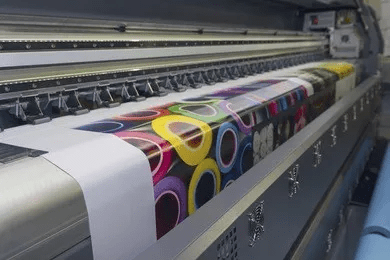 Why Digital Printing Is Better?
Digital printing is a hot topic because of its excellent outcome in designs.
It is cost-effective due to the direct transfer of design to fabric.
Like many printing companies, we can create images and designs as per your choice.
It offers high printing accuracy with an unlimited number of colors. Hence making it desirable for customers.
Requires a small operational set up than other printing processes
Need less training for workers to get printing done
Low electricity consumption rate compared with the traditional set up
Sharp printing with quick production
Open surface for creative designs for small and large-scale business
Cost saving and requires less set up time to design patterns on fabric
Quick to introduce new innovations in fabric
Quick to prepare and deliver printed silk fabric
Less water consumption during the printing process
Easy household fabric customization as per requirements
Low stock; to prevent "sell what you produce".
Reduced rate of ink, dyes, and chemical wastage
Fast sampling
Offers limitless bulk orders due to quick computerized adjustments
Screen Printing
The silk screen printing process involves printing the design on a screen or stencil. The design is then placed on an intended surface. Colors are spread in a sequence after the one applied before is dried. Despite its rugged nature, it is also among the trending processes. By this method, only one color of ink is applied at a time.
The latest machinery overcomes this barrier by connecting different stencils simultaneously. As a result, the fabric can move further after passing each stencil. A pattern with different colors is printed onto the fabric. But this process is time taking as compared to digital prints.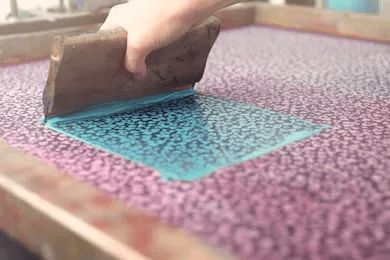 How Much Does Screen Printing Cost?
On average, screen printing costs 5 to 7 times more than digital printing. Its cost rate is higher because it sets up a separate screen for every color. Hence, the more colors you demand, the more plates will be manufactured.
Thus the cost rate will also increase. Similarly, the cost of scarves and t-shirts varies because of variable materials and printing techniques.
Material required for screen printing
Availability of the following materials should be ensured before starting screen printing:
Printing press along with a screen
Conveyer dryer
Ink
Squeegee
Stencil material
Flash care unit
Initially, the stencil is prepared as per design requirements. Then the fabric is placed over the press and adjusted to get printed. In the next step, the stencil is placed over the material, and the ink is evenly spread. With the help of a squeegee, proper spreading of ink is ensured. At this stage, the flash care unit cures ink to get a better print. It also provides the resistance of dyes in case of washing the fabric. In the final step, the fabric conveyer dryer uses steam to help in the absorption of colors into the fabric.
Ways to do screen printing on silk
Six different techniques are used to get screen-printed silk fabric.
(I) Spot Color Screen Printing
In this process, specialty inks are premixed with their base. After that, they are applied to the fabric in a single pass to get a fresh-colored outcome. This type of screen printing process is used for branding. Where a specific shade is required for large-scale printing.
(II) Halftone Screen Printing
When you want color saturation in printing, halftone screen printing is used. In this method, a single color is represented in the form of sharp larger to the faded tiny dots.
(III) Gray Scale Printing
This type of screen printing uses shades of grey, from black to white to create a perfect design outcome. You can create color blending and many contrasting shades of grey on silk with fine details.
(IV) Duotone Printing
This type of screen printing is also known as multi-tone printing. It uses special ink of 2-4 colors rather than a standard one. This screen printing gives a sophisticated final look to the lightweight fabric. It also helps to create intricate designs on various garment styles.
(V) CMYK Printing
CMYK (an acronym for Cyan, Magenta, Yellow, and Black) printing uses four specific colors. The layering of these colors on each other creates an art print. The combination of these four colors leads to 16000 different shades. This course of action is limited to only light-colored fabric.
(VI) Stimulated Screen Print Technique
Few traditional silk screens are utilized in this practice. It shows that this process is limited to a few colors only. The outcome reflects a print of full color using various spot colors. This type of screen printing is ideal when you want designs, patterns, or images on a specific part of the fabric.
Benefits of silk screen printing
For bulk orders; a cost-efficient process
Provide the best quality output
Offer printing on the specific area of fabric
High durability of prints
Resistant to various washing techniques
Offer unlimited printing on target areas
Vivid and bright outlook even on dark-colored fabric
Difference between Screen Printing and Digital Printing
Key differences between screen printing and digital printing are:
The latter offers a direct transfer of design from the computer to the fabric.
In contrast, you can get a screen print by creating a custom stencil as per demand.
Digital printing is suitable for light-colored fabrics. The digital printer applies a thin layer of water-based ink to shine through the design of the fabric.
On the flip side, screen printing is appropriate for dark-colored fabrics. The ink is applied thicker to give a vibrant finish to the fabric.
Choose screen printing, if you need to print the same design on yards of fabric with limited colors.
Whereas, digital printing is good if you need to print detailed artwork on a small piece, or the design contains more than 14 colors.
Types of Ink for Silk
For silk fabric, acid dyes enhance durability and a clean look. For this purpose, industries also convert various non-acidic dyes into acidic ones. These dyes are chosen based on reactivity so that the dye won't fade the shine or luster of the fabric. Too much dye can lose the crispiness of silk. Whereas a low level of dye can distort the outlook of the print due to ambiguous colors.
Furthermore, plastisol inks are best for silk screen printing. They do not dry quickly on the screen and provide you the ease to transfer or apply directly on the t-shirt.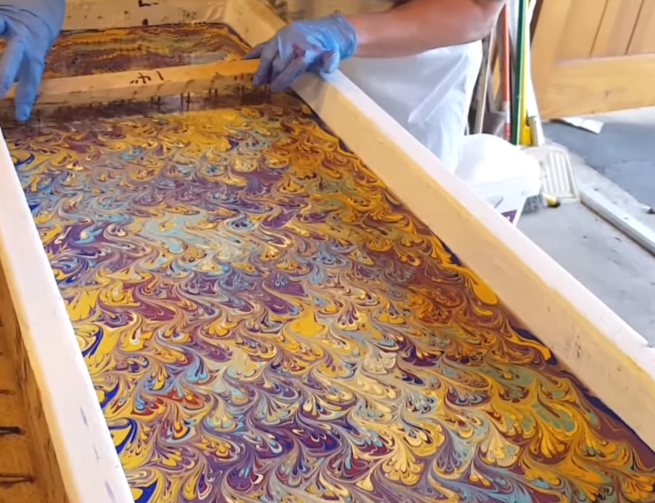 Steps for Printing Silk Fabric
Silk printing is accomplished by following various steps. These steps are almost the same for digital and screen printing. There are only a few changes in both ways, which are discussed below.
Step 1: Designing
The silk printing process begins with the design of the print. Designing is accompanied by color blending. For digital silk printing, the design could be:
Submitted on the computer
Or after a manual process is converted into a digital format by the client.
In screen printing, the pattern is pirated on a stencil, or the screen is assembled as per the desired print. This step is crucial because the final look of the fabric depends on the print and colors added to the design. Industries hire skilled designers to prepare a design that can be screen printed on silk.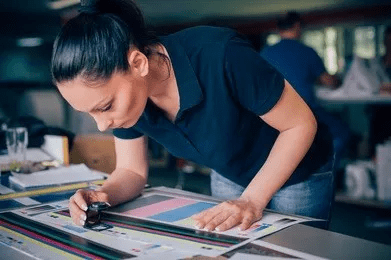 Step 2: Pretreatment
The fabric undergoes pretreatment before getting screen printed. This process enables the fabric to absorb more color into it. Pretreatment of cloth should be done under careful instructions before printing. Here, silk is coated with an external fabric finisher to get brighter colors.
The coating boosts the power of silk to soak up more ink. After coating the silk, the fabric is ready to print. The fabric is pre-tested at this stage with the right amount of ink. The screen printing press is set up along with the fabric coating at this stage.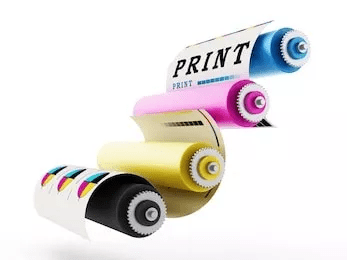 Step 3: Printing
The most careful step is fabric printing. For enhanced printing outcomes, fabrics are prepared for the dying process. It is also called PFD. Before printing, the surface required to induce printing is also considered. Then, the appropriate method is chosen based on order size.
For digital inkjet printing, the fabric is passed through a digital inkjet printer. The ink heads are adjusted to a suitable height. For screen silk printing, the fabric is placed on the press, and the screen is adjusted over it to print. The screen-printed fabric is then passed to the next stencil in the rotator.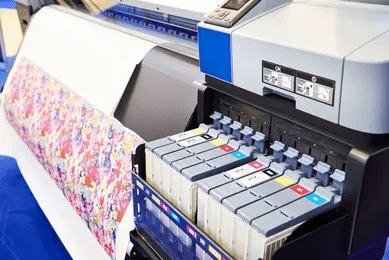 Step 4: Finishing
The final step of silk printing is the finishing of the fabric. As silk is freshly printed so, it requires more care at this stage. Fabric is steamed first to ensure proper absorption of ink and then washed. The fabric is then passed through various water channels for washing. They vary in temperature levels and chemical concentrations. Finally, it is ironed under careful observation.
At this point, before packing the fabric, prints are critically analyzed to take out any misprints.
Silk Scarves Printing Process
The demand for printed silk scarves is higher among all silk-printed stuff. From weaving to packaging, every step requires expertise to prepare silk scarves. We make high-quality scarves and offer traditional screen printing, double-sided printing, and digital printing on scarves. You can check here to learn more about silk scarves, which can add glamour to your outfit.
Custom Silk Printing
The most exciting opportunity industries offer is to customize your design. You get the chance to choose your desired silk fabric, design, and colors, and style it elegantly. Every step is as per customers' requirements, from choosing the type of silk to sewing.
Hence, those who want to get printed silk as per their requirements can avail of this facility. Furthermore, you can get the solution to your problem from experts here.
How Do I Choose My Printing Method?
Choosing the best medium for customized print could be challenging. The process to print silk is decided based on the fabric type, design nature, and, of course, the quantity of order. Additionally, several colors should also be considered. We have experts who can guide you about it, but here are variable approaches discussed below. You can consider them before choosing the best for your business.
a. Flat-Screen
For this screen print process, the scrapper is scratched over the screen. The fabric is placed under the mesh. Once the single scratch is done evenly, the fabric is moved to the next scratch. Repeat the same process until the fabric is printed entirely. This method is only suitable for printing on large-scale fabric. It requires scratch preparation for each color and design. Yet, it will cost a lot for a small piece of silk fabric.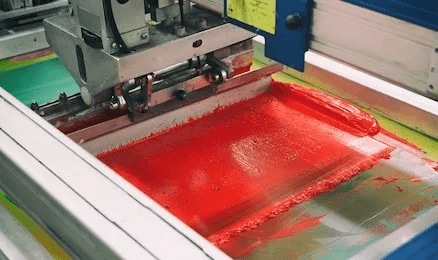 b. Hand Screen
The hand screen method would be the best to choose for printing small fabrics like silk scarves. Here, one frame is printed until the fabric is finished. Fabric is placed on a flat surface containing adhesive material. Once the fabric is adjusted on the surface, the printer is moved from one point to the other with the entire panel.
As a result, the design is printed on the printing surface. 50-90 yards per hour is the estimated speed of this process. It is the least among all the screen printing works discussed.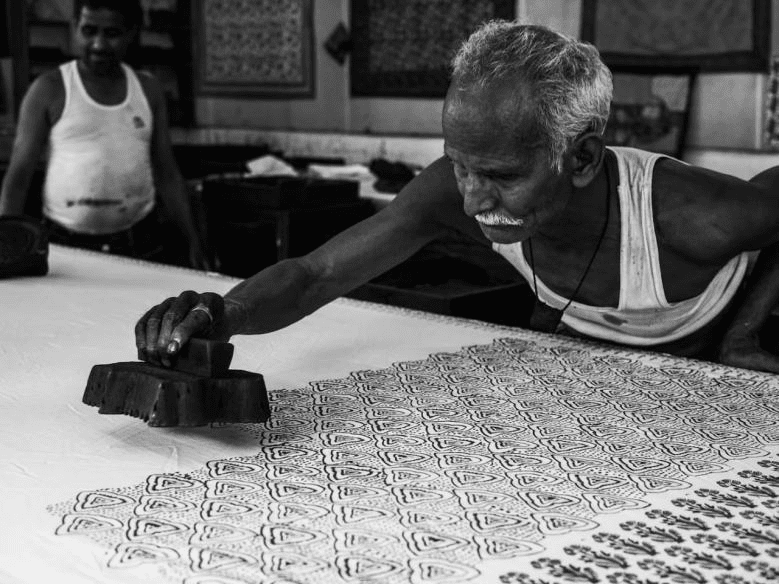 c. Rotatory Screen Printing
Various organizations opted for the most suitable set up of rotatory screen printing. This method works at a speed of 3500 yards per hour. It brings up designs with a more vibrant outlook by using a maximum of 15 color sets. The circular mesh cylinder containing the design assists in continuous printing.
Circular cylinders incorporate designs over themselves. Then these designs are printed on the fabrics using dyes.


d. Digital Prints
DTG – digital printing is a quick and low-budget method. It is suitable for small-scale businesses. The design is directly printed on the fabric in a couple of minutes. It is the best method if the desired design involves detailed print and the use of many colors.
Drawbacks of Variable Printing Techniques
Selecting a procedure unsuitable for your design cost your budget, time, and energy. Screen printing does not offer a detailed representation of the design. So, if you want to customize complex designs or images screen print medium is not recommended. Similarly, digital printing is not a good choice for a vibrant design with limited colors.
If we compare screen printing vs digital in terms of damage to the environment:
Screen printing causes more damage due to more stencil and setup costs.
For small scaled projects, screen printing would cost more. It is due to the setup of equipment required for every single color.
Eco-Friendly Benefits of DTG Printing
Apart from the individual benefits, people are also concerned about the environmental benefits. Digital printing generates less waste than any other traditional printing technique. For instance, it uses less amount of ink, requires less setup for equipment, and reduces the usage of water. Furthermore, designs are submitted in digital form. Then they are directly printed on the fabric. Hence reducing paper usage.
Scarf.com is taking several more initiatives to reduce environmental damage. For this purpose, we have stopped using the sublimation printing method. Furthermore, the inks we use are AZO-free to minimize the release of toxic chemicals into the air. Moreover, to reduce carbon footprints, most processing is completed inside the house.
Eco-Friendly Benefits of Silk Screen Printing
Similarly, silk screen printing also offers its services concerning environmental benefits. It uses water-based inks and dyes to minimize the spread of harmful chemicals.
Time Consumption for Silk Printing Methods
More time is required in screen printing vs digital printing. One should consider the time requirements before choosing the method for customized orders. If the order requires a digital printing method, customers expect quick delivery. Likewise, if the order requires screen printing, the estimated completion time may increase.