Are you a Scarf buyer looking for Scarf factories? If you're in the market for wholesale Scarves and Shawls, you'll want to find a factory that can provide you with a strong supply chain and adequate stock at a wholesale price. Fortunately, we're here to help.
Scarf.com is a fashion accessories company based in Chin, and also a scarf and shawl manufacturer with direct sales. We've consistently supplied fashionable and unique women's scarves worldwide. Our collection includes all kinds of scarves and shawls, including wool, cotton, silk, and cashmere fabrics.
Cashmere Feel Scarves and Shawls
If you want to improve your scarf business, look no further than Scarf.com. We've got the best Feel Cashmere Scarves and Shawls, and we're ready to help you save money on them! Whether you want three-color gradient cashmere Scarf Shawls, a Landscape Tree Sashmere Scarf, or a Geometric Splicing Cashmere Scarf Shawls, we've got what you need. And our Color Lace Flower Cashmere Scarves Shawls are perfect for summer days when your customer wants something light and airy.
In addition, we have a Plaid Zebra Leopard Cashmere Scarf, a Steadily Rising Cashmere Scarf, and a Stitching Leopard Print Cashmere Scarf Shawls. These are all high-quality scarves, and we can offer them at great prices to make extra money in your business. You'll love our prices so much that we're willing to stack them up against anyone else's in the industry.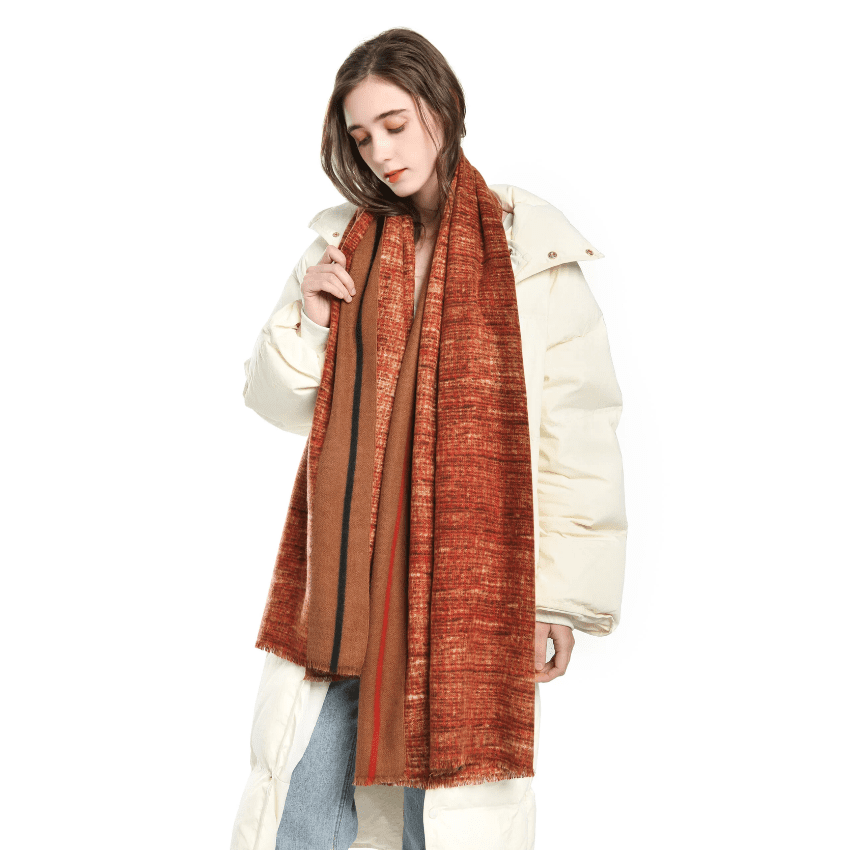 Silk Scarves and Shawls
Scarf.com's mission is to provide customers with the best possible experience when shopping for their next silk scarf or shawl. We work hard to ensure that every piece we sell exceeds all expectations by offering you only the highest quality scarf fabric, a wide variety of styles and designs, and an unparalleled level of customer service from start to finish.
Our products range from classic designs such as Cube Cashews Silk Scarf, Wavy Flowers Silk Scarf Shawls, Phoenix Silk Scarf, and Patchwork Silk Scarf Shawls to modern styles like Yingse Shanhua Silk Scarf, Winter Jasmine Blooming Silk Scarf Shawls, Grid Stitching silk scarf, Four Round Dots silk scarf or Icing On The Cake Silk Scarf Shawls. We also offer square-printed silk shawls if you want something more edgy but elegant for any occasion!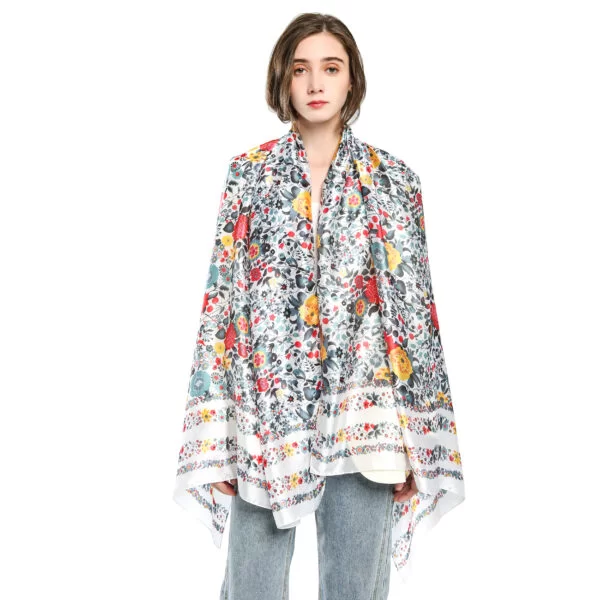 Tie-Dye Scarves and Shawls
We've got you covered if you're looking for a scarf that is the perfect combination of soft, warm, and stylish. We are engaged in offering a wide variety of Tie Dye Scarves. With the help of our adroit professionals, we make sure to design these scarves in a superior manner using premium-grade fabric and advanced machines. They are sturdy in construction and also have an excellent finish. Whether you're in the market for a cashmere scarf or a pashmina shawl. We offer a variety of tie-dye scarves and shawls styles, including:
Dazzling Tie-dye
Tie-dye chain scarf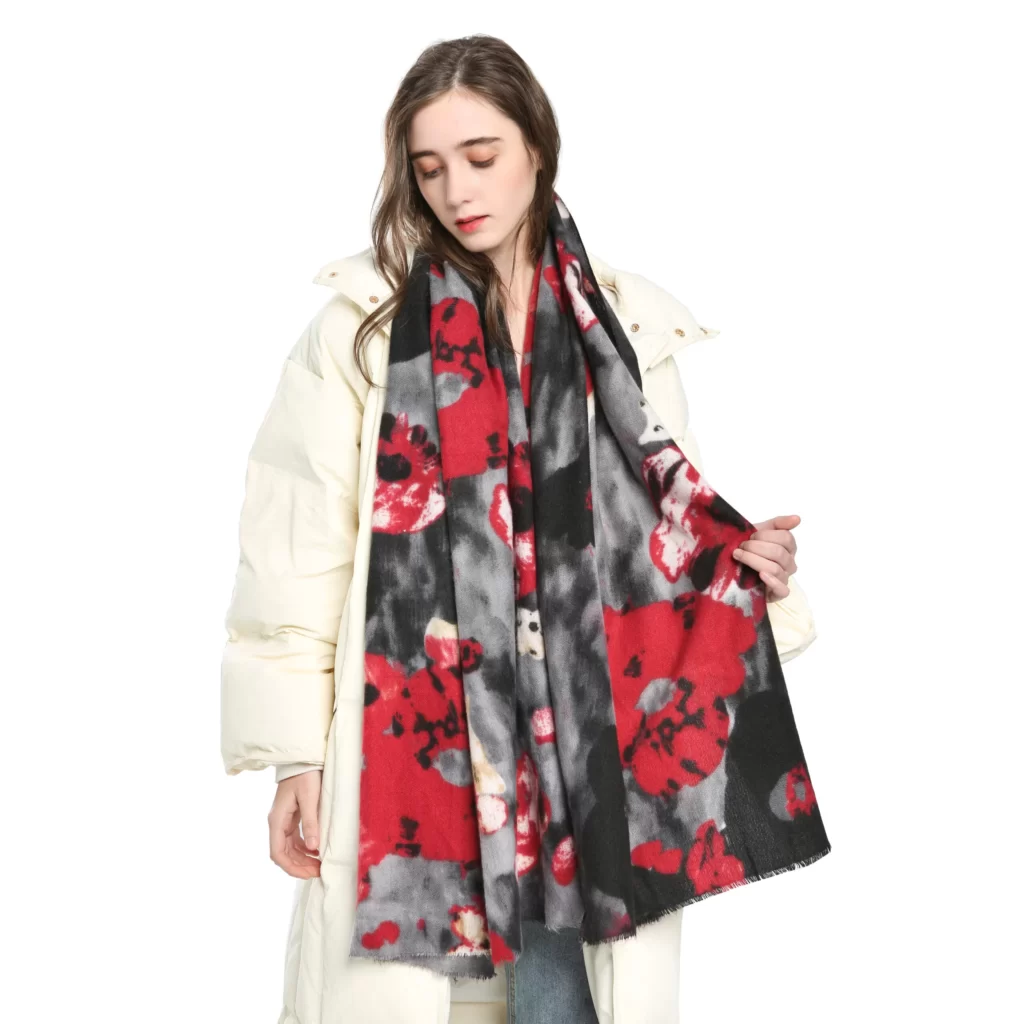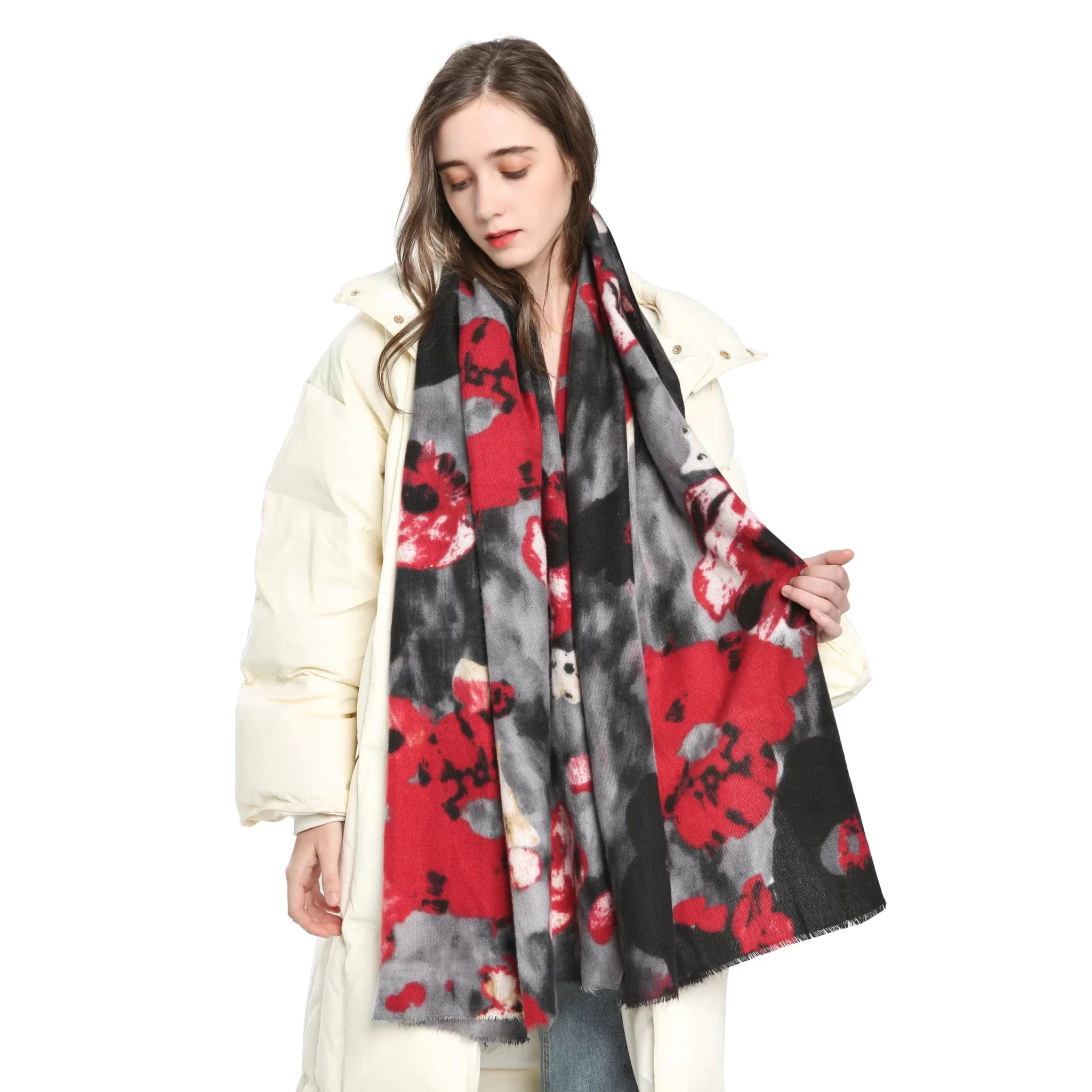 Printed Scarves and Shawls
Scarf.com believes that a scarf is more than just a piece of fabric. It's an expression of who you are—a way to show the world who you are and what you love. Our scarves are so much more than just scarves—they're works of art! Our designers work tirelessly to create designs that speak to every style and personality, from Modern and Classical print designs to Small Floral printed scarves. And we've got many other options: Side Strip Big Flower Printed Scarf, Flying All Over The Sky Printed scarf, Spring Snail Printed Scarf. Outstanding Printed Scarf Or Corner Flower Printed Scarf is more your style.
No matter what you look for, we have something for everyone. In addition to our stunning selection of printed scarves and shawls, we also offer an array of colors and styles in traditional silk versions. If you have a scarf business, consider expanding into new markets, or if you are a wholesaler with an interest in selling scarves to retailers, you should contact Scarf.com.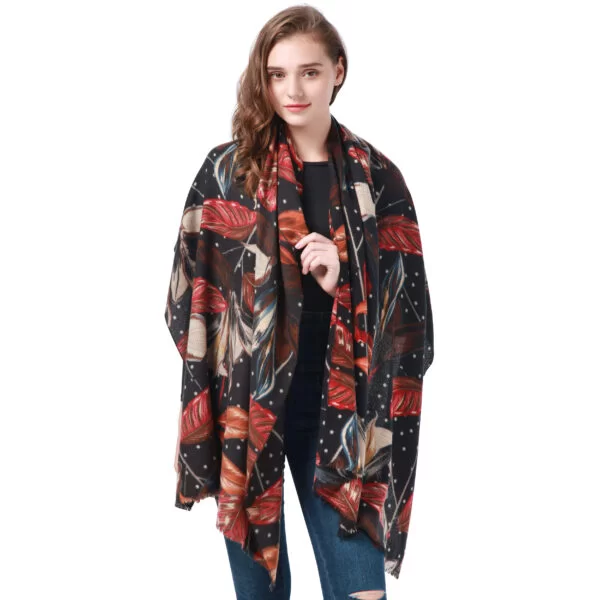 Foil Printed Scarves and Shawls
The best scarves for your scarf business are right here at Scarf.com! With a selection of styles, prints, and effects, you'll find the perfect foil-printed scarves to add to your collection.
Our gold branches and jade leaves plus Scarf are an excellent choice for those looking for a classic design in their scarf collection. Or, if you're feeling bolder, the gypsophila plus Foil Printed scarf Shawls will make an impression on anyone who sees it! The Big Cashew Flower Foil Printed Scarf is another popular option for those who want something more unique to their look. And for those who love patterns and textures, our crisscross add gold foil printed Scarf is sure to please! No matter what style you're looking for, we've got something that will work for you here at Scarf.com!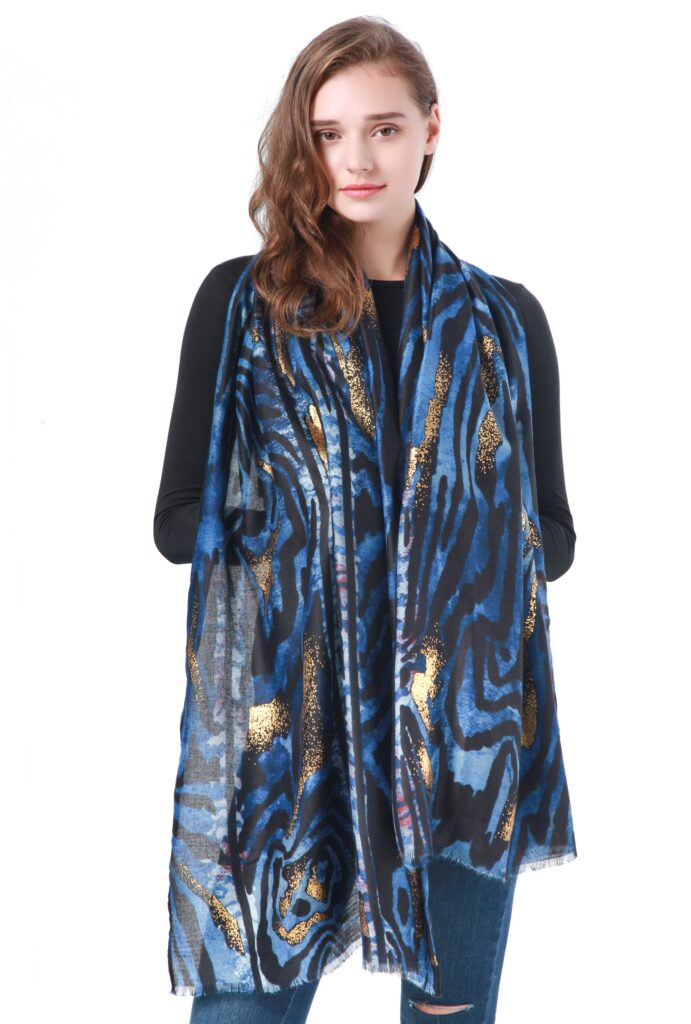 Satin scarves and shawls
Satin is a smooth fabric that is breathable and comfortable. Our small square satin scarf is excellent for casual wear.
If you're looking for the most elegant, beautiful satin scarf on the market, look no further. Our Peacock Satin Scarves Shawls are perfect for your scarf business because they're versatile enough to be worn with any outfit. Plus, they're lightweight enough that you won't feel weighed down by them—so your customers can wear them all day long without getting hot or sweaty!
The Small Square Satin Scarf Shawl is a perfect accessory for any outfit. It can be worn as a neckerchief, headband, or hair tie. The Side Strip Big Flower Satin scarf is soft and lightweight, making it perfect to wear during the fall and winter.
Satin scarves are the best for your scarf business because they're so soft and smooth. They're also gorgeous, and you can make them in any color you want. Our Colorful Flower and Fruits Satin Scarf is one of our favorites because it's so bright and colorful!
If you're looking for a way to get more customers in your door, try selling these beautiful satin scarves. You'll never have a problem selling them—people love them!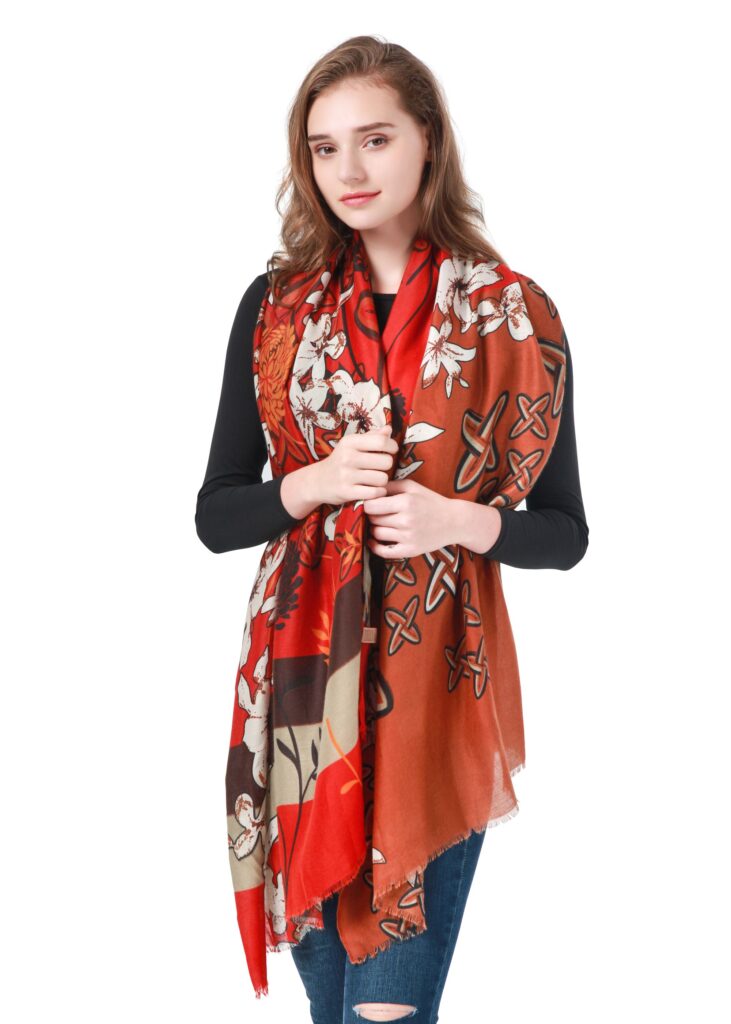 Twill scarves and shawls
Twill scarves and shawls are made from the finest quality materials. You can find a wide variety of styles and colors to choose from. Scarf.com is a wholesale scarf manufacturer that provides high-quality products at an affordable price. Our twill scarves and shawls are designed with your business in mind.
The variety of styles and colors means that no matter what your customers might be looking for, they'll find it here. From the classic Kerchief Leopard Twill Scarf Shawls to the modern Two-Tone Lace Twill scarf, we've got something for everyone. And if you're looking for something unique, our Stitching Cashews Twill Shawls Scarf is sure to impress!
These scarves are best for any scarf business. Peony flower Twill Shawls scarf is a high-quality twill scarf and shawl made for your scarf business. These scarves have been crafted with the utmost care, and we're confident you'll be impressed with the results. Square dot Twill Scarf Shawls is a versatile, high-quality option for your business needs.
Best of all, these scarves are made to order, so you can get precisely what you need!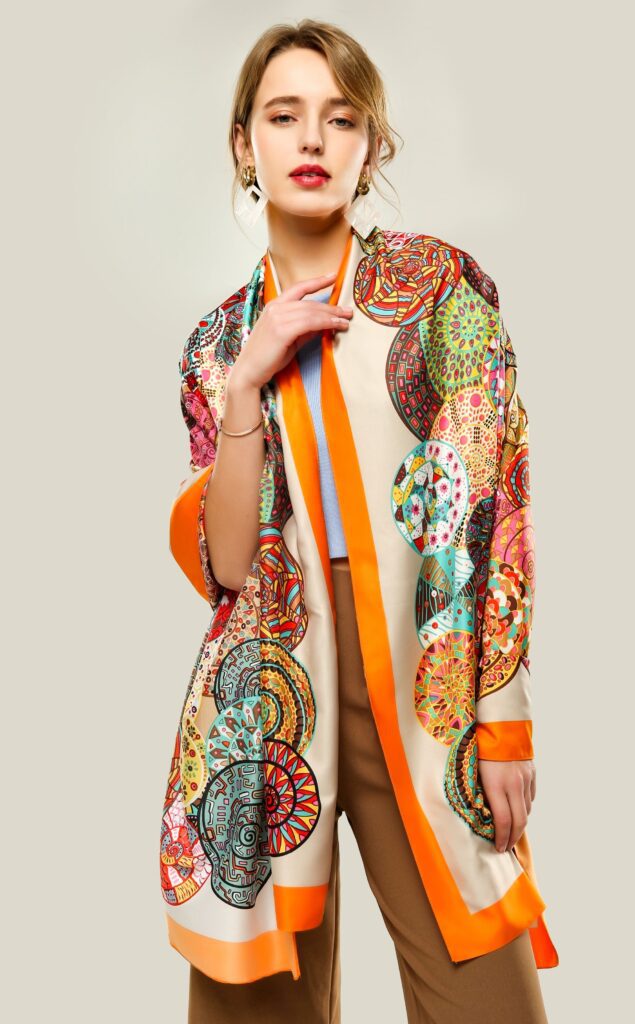 Silk satin scarves and shawls
If you're in the scarf business, you know that scarves can be worn in various ways and come in various colors, shapes, and textures. If you want your scarf business to thrive, you need to offer your customers something they can't get anywhere else: truly unique scarves.
We have just what you're looking for scarf.com silk satin scarves. These scarves are made from high-quality materials and feature designs that will set them apart from any other scarf.
Our Kerchief Love at First Sight silk satin scarves features a patterned design that will make your customers' eyes pop when they see it! Our gradient butterfly silk satin scarves are perfect for people who want their accessories to be fun and colorful without being too over-the-top or too bright. Our Circle Flower Silk Satin Shawls Scarf features a delicate pattern of flowers around the edges while remaining simple enough not to overwhelm anyone's outfit or makeup look. And our Totem Flower Silk Satin Shawls Scarf is just as pretty as its name sounds—it features a geometric pattern of flowers that looks almost as it is shown but with more personality.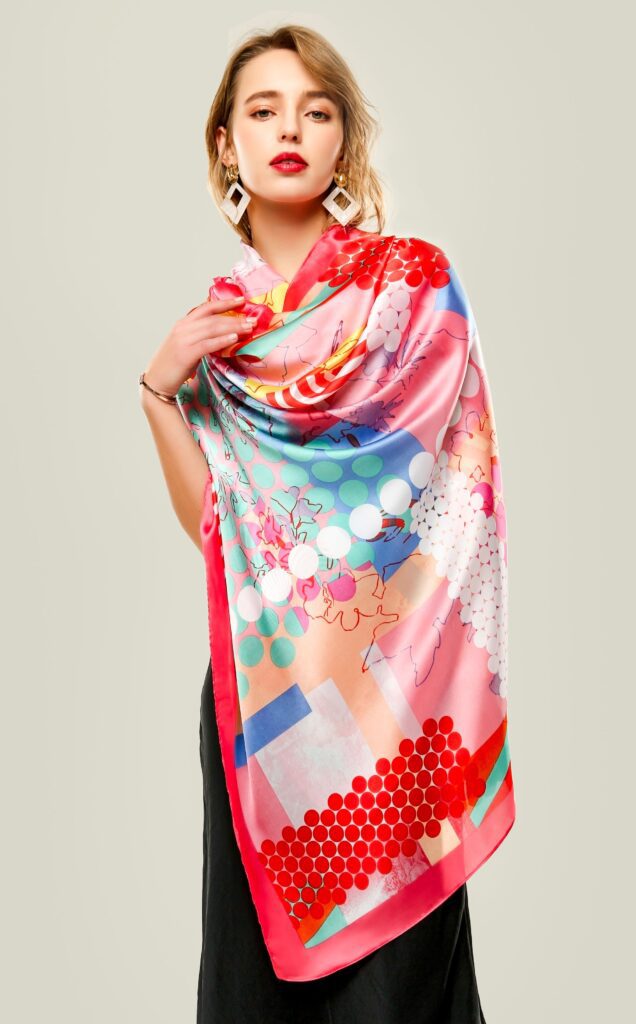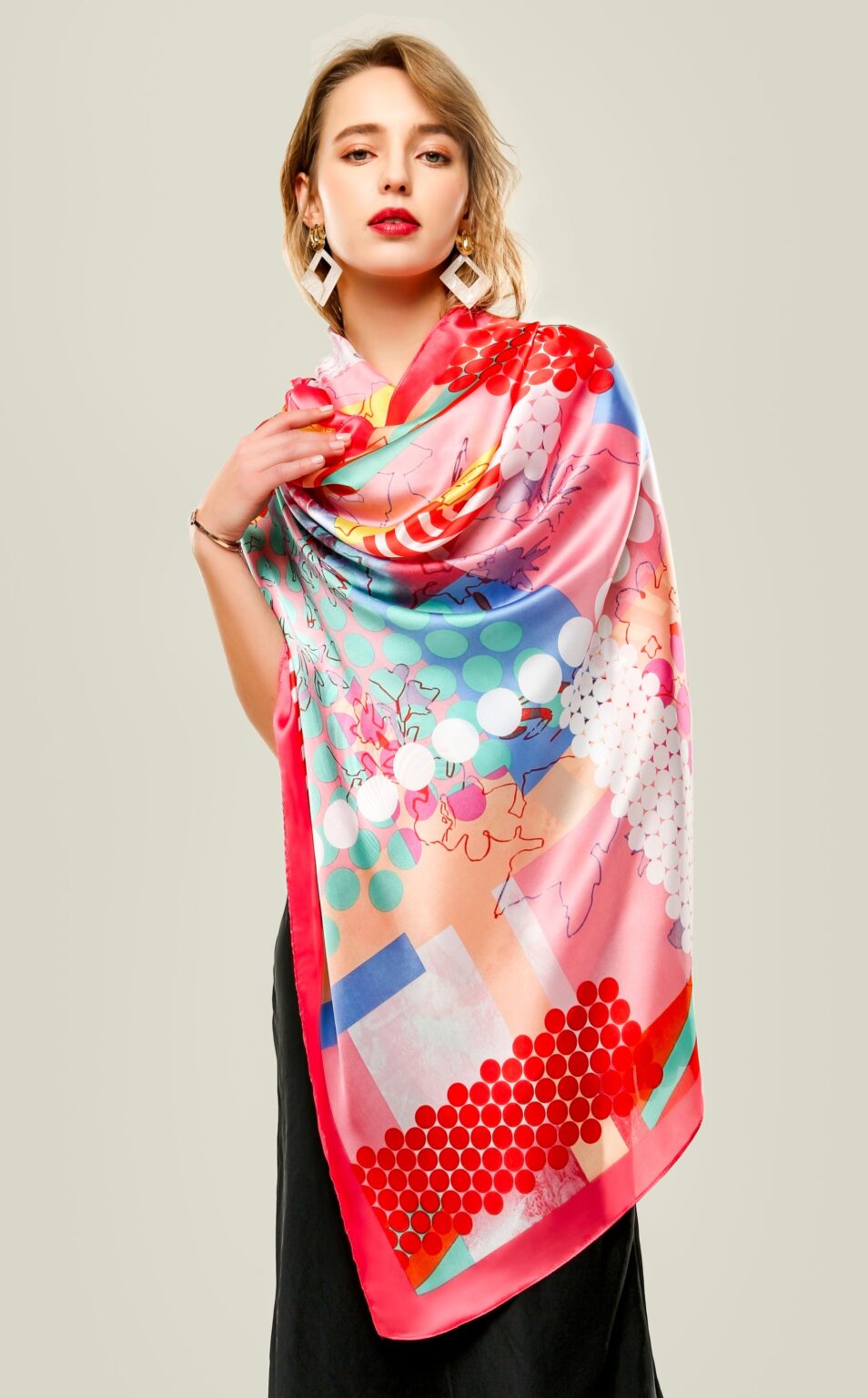 Acrylic scarves and shawls
Scarf.com is a wholesale manufacturer of acrylic scarves and shawls. We offer our clients the option of bulk purchasing their favorite color combinations and styles, allowing them to retail their products at a higher price than competitors. Our most popular types are:
Chain Acrylic scarves feature a chain-link pattern that is both elegant and fun. Serpentine AW Acrylic scarves style features an intricate weaving pattern that looks great on every wearer! Shuangpin Dot Acrylic scarves dots style gives your customer clothing a fresh look without being too loud or overwhelming. Rainbow Acrylic Shawls Scarves style features a rainbow gradient of colors that will surely be eye-catching among your customers. Finally, the geometric Stitching Acrylic scarves design is perfect if you want something simple yet stylish scarves for your business!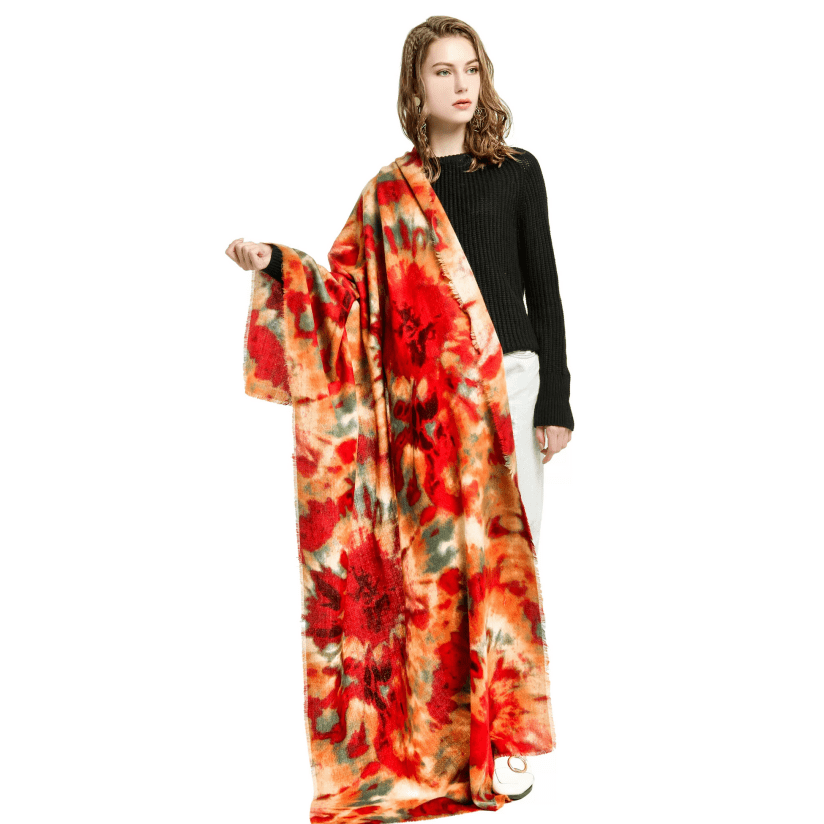 Designer Fashion Scarves and shawls
Scarf.com, a leading scarf wholesaler in china. Get the opportunity to design and manufacture your Scarf and unique designs using the scarf material of your choice. We offer a wide variety of scarves to match all ages, seasons, and occasions. Our products are very soft, comfortable to wear, wrinkle-free, and high-quality fabric with delicate designs. And our scarves have the market price advantage, everyone will like the cheap scarves. All of them are crafted by our most excellent designers and are reliable in creating fashionable trendy styles for women lady.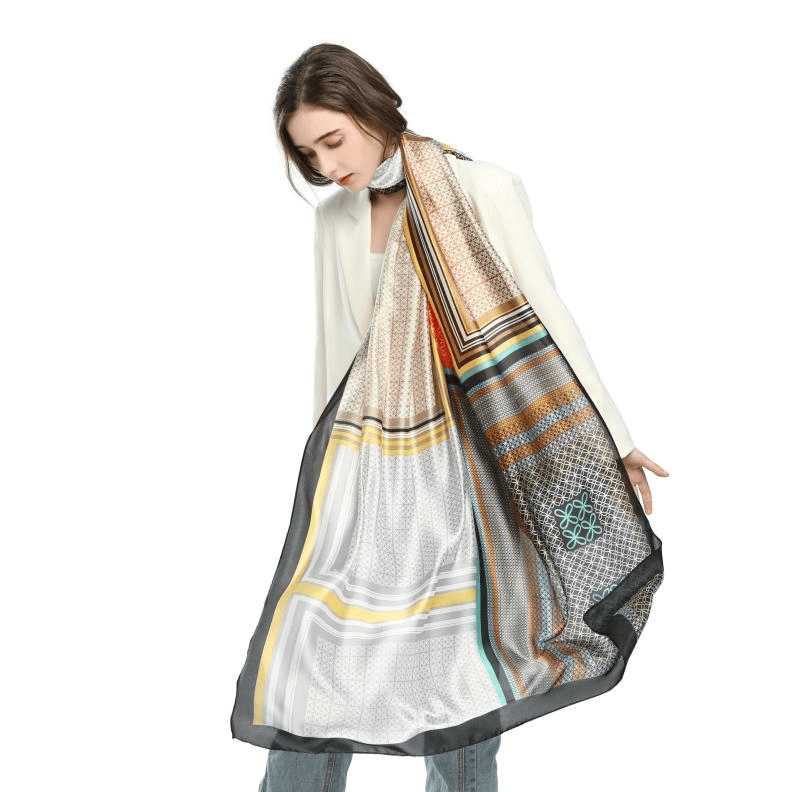 Color Striped Flowers Scarves and Shawls
Four-Piece Belt Wool scarves and shawls
Leaves Silk Satin Scarves and Shawls
Bowknot Silk Scarves and Shawls
Why Choose Us as your wholesale scarf and shawl manufacturer?
We know the ins and outs of the Scarf industry and you can connect us with your needs. Scarf.com is the leading supplier of high-quality scarves, shawls, and other fashion accessories. We've been in the business for over 20 years, and we've built up a loyal following among retail stores and fashion brands all over the world.
We're not just interested in making a quick sale – we want to build a long-term relationship with our customers. That's why we offer competitive prices and quality shipping. So why wait? Contact us today and see what we can do for you!
How to Contact Us for Any Inquiry on Scarf and Shawls?
For more information about Scarf Suppliers and shawls manufacturers, Please fill out the inquiry form available at https://scarf.com/contact/, if you would like to apply for our stockist or want to buy our product in bulk. Or visit us directly at https://scarf.com/scarves-wholesale/ and explore all the products. Also, you can email us your requirement directly at contact [email protected]. We have customers across the USA, England Germany, Italy, France, New Zealand, Spain, and Australia. Our products have been a mainstay for retailers of all sizes, import companies, events organizers, and Fashion brands both private & commercial.
There is no doubt that scarf.com is an excellent choice for buying women's scarves and shawls if you are a buyer interested in finding quality products and savings. They have some of the best wholesale scarves categories at the lowest prices, so be sure to check us out if you want to do business with one of the best scarf wholesalers in China. We can assure you that all our products are reasonably priced with full patterns, including all kinds of styles, designs, and fringes—with competitive prices and quality fabrics. We support bulk purchases and MOQ.