Scarf importers are always comparing which is better – the factory or the trading company of China. The ultimate goal is to enjoy their wholesale prices. Some will say, "The factory offers lower prices." And some will say, "The service of the trading company can meet my requirements."
Either way, in this article, we will learn the best choice for your scarves import business. It can be a factory or a professional trading corporation.
In fact, the most important thing in choosing a trader or a factory depends on the number of orders for scarves. Yes, if you want to import scarves from China and are confused, check your order's quantity first. Then consider the points discussed below. It will help you out.
Difference between a Scarf Factory and a Scarf Trading Company
Before getting into details, know about the difference between the two. The factory is the one that takes the responsibility for production. Whereas, a trading company supplies the products from the manufacturer to a brand.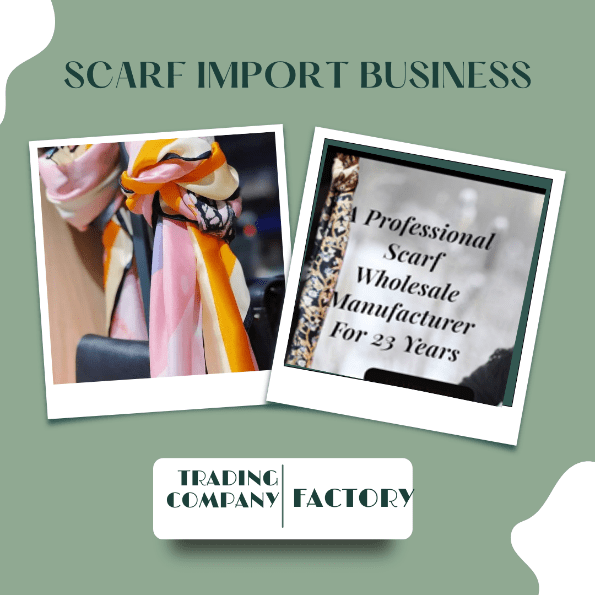 Characteristics of a factory
Factories are the main producing point of the product you are going to import.A scarf factory is a primary area where experts manufacture various kinds of scarves. In factories, every step from fabrication to packaging is done to meet the criteria. Also, factories produce their special product, which they call their signature product.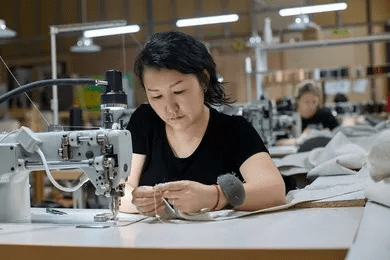 Characteristics of a trading company
A trader does not take the burden to produce products. Instead, they source the products from various other plants. Moreover, a trading company in China can offer you a wide variety of products. It is easier for them to source fabrics rather than make them.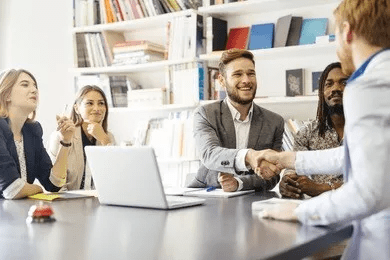 Benefits of working with a trading company
You must be aware of the perks of working with various kinds of companies to know about the scarf business. Let's learn about the positive side of working with a trading company.
But before getting into it, remember, you should choose to work with a trading company when:
Do you want to order a small quantity of a product or,
Many kinds of products in small quantities.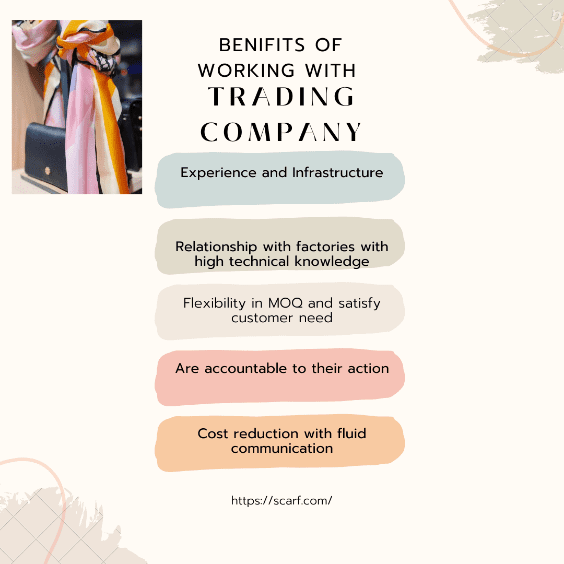 a. Experience and infrastructure
Experienced trading firms in China also handle the logistic of your products. Hence, working with a good trading agency helps you to get rid of various other problems.
b. Trading Companies Work in Relationship with Factories
Trading companies source products from many production units. Hence, they develop good relationships with their management to get the best results.
Similarly, their relationships get strengthened with time as they start communicating frequently. Also, these companies usually hire local people who can speak the factory language.
Furthermore, they promise manufacturers to take buyers routinely. As a result, manufacturers offer them benefits that contribute to their good relationship.
c. Flexibility in MOQ
Trading businesses show flexibility if your order is less than the MOQ of the company. Similarly, importers face the issue of per unit price along with MOQ.
Any fluctuation in one thing can cause a change in the other. Reducing MOQ will lead to a high per-unit price. But trade companies can give you an edge here to show flexibility in both.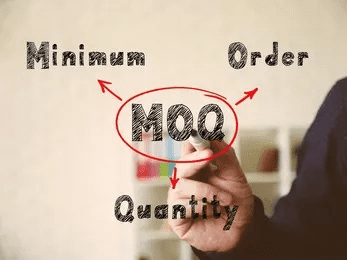 d. Are accountable for their action
Sometimes the factory may stop communicating after payment without product delivery. This might happen in the case of new factories, but established ones wouldn't commit such an act. To avoid facing such a situation, importers usually contact any trading company.
It is noticed that trading companies show more accountability for their actions. So, you can ask for product changes in case of copyright infringement.
e. Cost reduction
To reduce language and cultural barriers, these trade companies hire language experts. It also helps to prevent chances of miscommunication with the clients. Also, to get a better understanding of the client's expectations and requirements.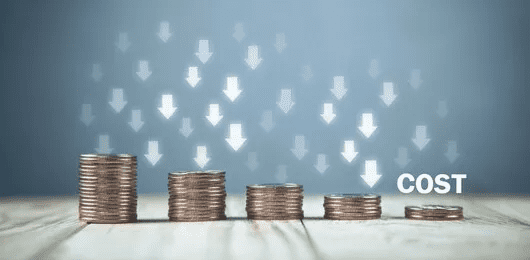 f. More fluid communication
To deliver consumers' orders safely, trading corporations work with technical experts. These experts analyze the requirements and operate accordingly. Hence, trading corporations have high technical knowledge related to the products. Yet, the small-scale factories don't provide much benefit, but the large-scale ones do.
g. High technical knowledge
To deliver consumers' orders safely, trading corporations work with technical experts. These experts analyze the requirements and operate accordingly. Hence, trading corporations have high technical knowledge related to the products. Yet, the small-scale factories don't provide much benefit, but the large-scale ones do.
h. Satisfy customer's need
Trading companies are more concerned about the satisfaction of customers' needs. For that reason, they try to meet consumers' requirements completely.
Challenges of working with a trading company
Challenges are also a part of everything in this universe. Apart from the perks sometimes you are supposed to face some challenges as well. These challenges are discussed below.
1. No price advantage
When working with trading companies, individuals get no price advantage compared to factories. Factories offer a price reduction on the bulk of orders while trading companies can't as they are not the manufacturers but instead are mediators to source products.
2. Less control over design, production, and material
Those who are more concerned with the raw material, production method, and design should work with factories. Trading companies hold lesser control over these things as compared to production companies.
Although brokerage companies try to please the buyer. Yet. they can't dictate every desirable step to the manufacturing companies.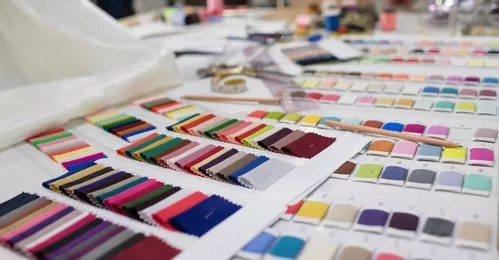 Benefits of working with a factory
Scarf-making companies offer a wide range of benefits to buyers than trading companies. If you want to place an order in bulk amount, then the best option to go for is to work with any manufacturing company. The reasons for that are mentioned below.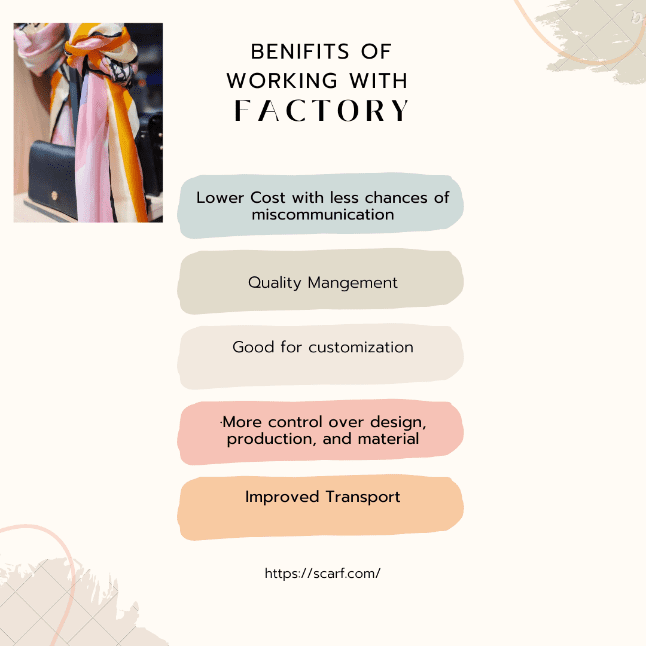 a. Lower cost
The most beneficial thing is that mills offer the least cost of the order than the trading companies. Because they produce the product in large amounts and have the desired machines for that
These all factors assist in cost reduction. If you want wholesale scarves, contact the production company in China to enjoy the cost-benefit.
b. Communication with the Factory Directly
In the case of a trading company, there is a huge network of transferring your demand to the manufacturer. Thus chances of miscommunication increase. On the flip side, a manufacturing company has more chances of appropriate communication.
Furthermore, you can get suggestions from a production facility by communicating directly. Similarly, you can also discuss your queries with them to get a suitable response.
c. Quality management
The topmost concern of the customer is to get the best quality product. Right? So with the manufacturer, quality problem management works at its best.
Thus, the quality of the product is ensured.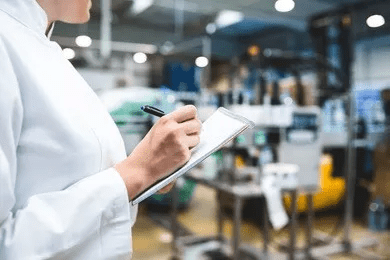 d. Good for customization
Customized products are a widely spreading trend. So most scarf importers want customized fabric as per their culture or the preference of the consumer. In this case, factories offer the best customization service compared to trading companies.
While customization the crucial steps are:
Fabric choosing
Printing method
Desired print
Sewing
Packaging
e. More Control Over Design, Production, and Material
Factories hold more control over their design. The entire procedure is completed under their supervision and after their consultation. The end product will exactly match the customer's requirements. Because manufacturers carefully put in place the customer's guidelines.
So choose a manufacturing company if you want to import wholesale scarves and are sensitive to design and raw materials.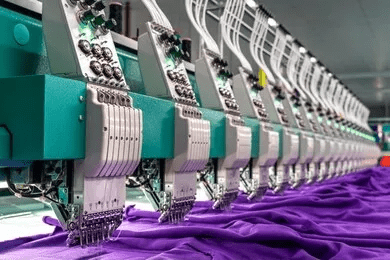 f. Improved transport
Factories handle transportation carefully. They offer good transportation services as per products instruction. Here, scarf manufacturing companies are concerned about the safe transportation of the scarf.
Challenges of working with a factory
Apart from its benefits, customers can face challenges while working with a factory.
1. Supply chain issue
Instead of working with multiple suppliers, working with a single manufacturing company can cause supply chain issues. If the staff of the concerned factory is not trained/experienced enough, then it will cause a delay in product finishing and lead to less availability of the desired product for sale.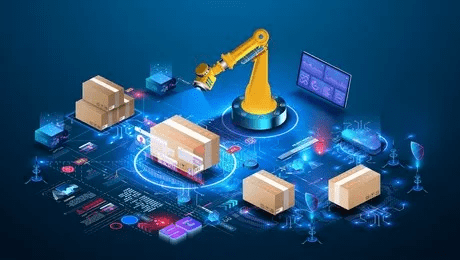 2. Unpopular products
Most often, factories deliver outdated or unpopular products. So, one should keep this under consideration to prevent such challenges.
3. High MOQs'
If you are ordering from a manufacturer so you are supposed to place a large order. The MOQ for factories is higher compared to trading companies. So you may face this challenge in case you want to order a minimum quantity of product.
Type of scarves customers suitable for factories
Now the question is, which type of customer is suitable to work with a manufacturing company? It depends on customer requirements and priority. If the customer wants the best fabric quality along with design so it's better to work with the factory.
Similarly, focus on the quantity of order. Do contact the scarf manufacturing company in China. Ask them about their MOQ along with PPU (price per product). If you feel like your order quantity correlates with their MOQ, then why not choose to work with them?
A manufacturing company is better if you want specific fabric printing or production method. And if you are interested in a customized scarf, then choosing a factory for that purpose is the best option.
Factories provide the best scarf customization on a more reasonable budget than any agency. Lastly, if you want to save bucks along with high-quality products, then go to the scarf factory in China where they serve as per requirements.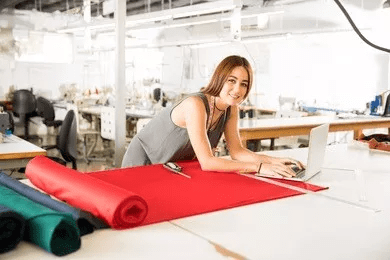 Types of scarves customers suitable for trading companies
For a trading company, the most suitable situation is less order quantity than factories' MOQ. If you want to import scarves in fewer quantities, then working with a trading company is the best option for you.
If you don't want to involve in design and scarf production, then working with a trading company is the best. Another condition to go for a trading company is if you want to get a variety of products and don't want to deal with them.
Moreover, getting to know about trusted partners from China is easy with the help of a trading company. Hence, you can save time and energy by choosing a suitable shipping method and company.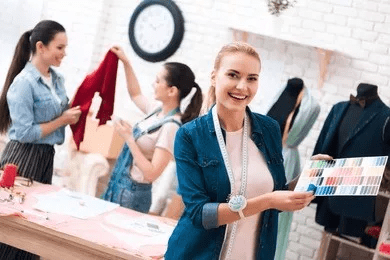 How do identify the supplier as a trading company or factory?
Now let's discuss the trouble that usually people can face when importing their products from China. That is the identification of the supplier! Yes, people often claim to be a factory although they are any trading company and vice versa for their benefit. In this situation, you should concentrate on finding out their identity. To avoid any scam, the following points should be mandatory to consider for the verification of the supplier is necessary.
(I) Business License
The quick and smart way of verification is to ask for suppliers' licenses. If their business card has "produces/manufactures" on it, it symbolizes the license of a manufacturing company.
For reading and comprehending the language mentioned on the license, you can go for any tool to translate. You can do it by scanning or contacting any person holding a strong grip over the Chinese language.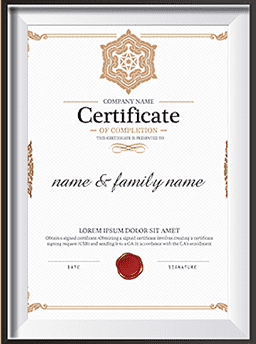 (II) Suppliers MOQ
Test the MOQ of the supplier. You simply can ask them to send you a hundred scarves at the present moment and later on you'll order in large quantities. Now, if your supplier is any factory, they will deny placing such a small order.
Whereas, if the supplier is any trading company, you'll see their willingness to accept this order. Hence, you can verify them based on such a small test.
(III) Value added tax invoice
The government of China holds an exciting policy for factories that can help you out in verifying your supplier. The government issued 17% values added tax invoices to the large-scale factories in case of exporting products from China.
For verification, you can ask them to issue you an invoice by stating that you already have applied for export drawbacks.
In this case, if the supplier is a trading company, they'll hesitate to share or maybe deny it in the end. But if the supplier is any large-scale factory, they will show a willingness to proceed with your request.
(IV) Manufacturer Auditing Report
You can ask for a factory auditing report to verify the company's relationship with other companies. If they provide you with the report, you are supposed to check the name of the company in the report and on the business license. If the name matches, then your supplier is a factory. On the other hand, if they are unable to provide you with the report or show some hesitancy, then they must be a trading company.
If the name matches, then your supplier is a factory. On the other hand, if they are unable to provide you with the report or show some hesitancy, then they must be a trading company.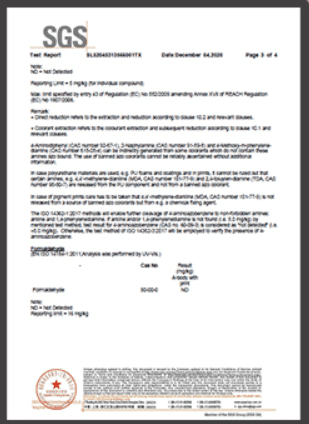 (V) Product Catalog
We just got to know above that trading companies have a variety of products compared to manufacturing ones. Do check the product catalog of the supplier and if you found a variety of products there, then it must be a trading company. While, if they are having specific products, then it is a sign of a factory.
Choose what suits most to you most by considering the above instructions in mind.